Giving one shot of "Kure 5-56" (equivalent to WD-40 in the U.S.) did not solve anything. I decided to disassemble the arm as well as its corresponding parts. No special tool was necessary for the job. I wiped the pivot shaft with alcohol, applied 5-56 to the hole of the arm, and reassembled. Good, the arm now moves smoothly. Well, I might be better using silicon oil or something instead of 5-56. Let's do so when 5-56 fails to maintain the smoothness.

It also required to realign the plastic gear meshing phase, for they misaligned when a drive gear attempted to rotate another gear which should drive the arm. Though without a service manual, I managed to find the proper meshing phase after several try and errors. The loading-unloading mechanism began to work just as it should.
Picture quality of the deck is not so clisp, possibly due to the wore head. But it has certainly come back to life again.

Now we get everything and I've got Toshiba VCR listed in my back-to-life-again project list!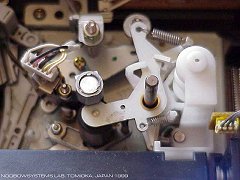 Capstan and Pinchroller Mechanism
Click
here
for the movie (small, 128KB) showing how it works, if you dare to watch...